Happy Nutrition – we love food!

Happy Nutrition is Part of the Happy Dance Power System and its goal is to create a balanced, happy and healthy life.
We are what we eat – literally.

Our brains run on the fuel that we put into our bodies. Every single cell is made from the food we eat and the water we drink. Bad feelings, depression, low self-esteem as well as illneses and weight gain are often caused by the wrong diet. Happy Nutrition helps people with weight loss, depression and diet related health problems to improve overall well being, productivity and to find balance from within. Once we have the perfect weight, are in balance and well nourished, we are also happy, healthy and can live our life to the fullest.
Happy Nutrition will be available through booklets and eBooks, a YouTube channel with Videos that explain nutrition, healthy eating, food preparation etc. Additional information and tips about food and health will be on the Happy Dance website, its facebook page and other social media.
Are you struggling with loosing or maintaining your weight?
We can help you!
Our team of certified nutritionists is excellent in teaching and advising weight management and helping to maintain a healthy weight long term. Most fad diets are very short lived and don't last and often the weight comes back after a certain amount of time. Our nutrition plans are very effective, long lasting and improving all over health as well. We focus on delicious meals that are satisfying and promoting weight loss and long term health.
Meet Kristina our head Nutritionist and the founder of Happy Nutrition
Kristina Dos Santos is a Fitness Expert, Yoga Teacher and certified Nutritionist. Kristina was born in 1980 in Wiesbaden, Germany. She moved to Tokyo, Japan in 2002 and became a yoga teacher in 2004.
Giving public and private exercise lessons for several years, Kristina realised that becoming a nutritionist would be a wonderful addition to her current profession in order to provide a complete service for clients that consists of both exercise as well as nutrition advice.
In 2011 Kristina started to study Nutrition. She has a Diploma in Nutrition with Distinction by the Institute of Natural Healing and holds the title; Dip. N (Inst. NH). Additionally Kristina got certified in plant based nutrition by eCornell University in 2013. Kristina created the Happy Nutrition program based on her experience that she gathered while helping clients to reach their desired goals such as achieving their perfect weight, creating pre- and postnatal nutrition programs, improve general well being and happiness.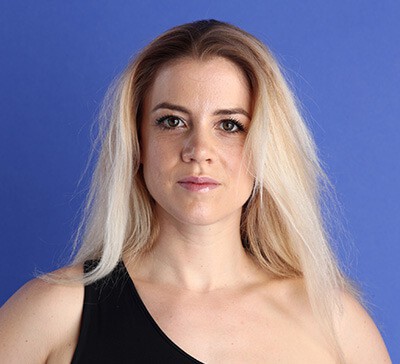 Being positive and happy is the key to achieve your goals!
– Kristina Dos Santos
Creator and head Nutritionist of Happy Nutrition